"[] the line: Detroit-Tehran"
"[] خط" Telematic
Performance Workshop
Hosted by Power House: Playhouse, Detroit +
Pejman Foundation: Kandovan, Tehran, Aug-Sep. 2017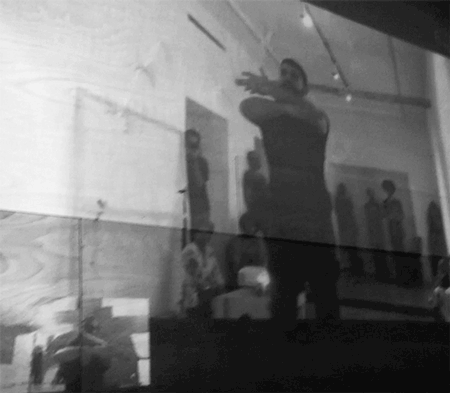 Poetic Societies is thrilled to announce the launch of its Telepresence Educational Program Series, [] the line, consisting of workshops, rehearsals, and discursive sessions on Multilocational Movement and Theatrical Performance Making. Working with "in-betweenness" as a state of being, an element of space, and a design statement, [ ] the line is an experimental space for working with telepresence technologies as a creative material for producing real-time cross-cultural performances that push the boundaries of transnational collaborations in all its aspects of creation, production, and distribution.

Curated by Poetic Societies' Founding Director, Ava Ansari in collaboration with The Hinterlands and sponsored by The John S. and James L. Knight Foundation, the first program of [] the line was

a five-week, bi-locational workshop between Detroit and Tehran. Twenty-two artists, musicians, filmmakers, performers, dancers, writers, directors, and producers participated in the intense hands-on program in both locations.
Participants created bi-locational multimedia theatrical sceneries with real-time sound design and intensive manual movements of handheld lighting, projection, and camera work with objects such as LED ropes, mirrors, clear globes, cardboards, and a parachute. The sessions also included acting, dance, movement, and dialogue rehearsals with guest artists.

Together, they shaped and conveyed feelings, stories, and emotions from place to place and delivered proactive and embodied documentation techniques. The parallel sceneries, stories, and designs they made brought to life the terminologies that Poetic Societies has been using for online tehatrical productions such as extending, cutting, or blinding a scene on one end for creating interdependent or independent scenes on different locations.
Participants: Shaheen Aghdam, Ariya Ashkan, Yousha Bashir, Alicia Castanada Lopez, Naghmeh Fakourzadeh, Levon Kafafian (Fringe Society), Alireza Keymanesh, Zahra Moein, Billy Mark, Amir Poosti, Hooria Rahimi, Haleem Rasoul Stringz (Hardcore Detroit), Aja Salakastar Dier (Video 7), Ali Sina Shahani, Arya Tabandehpoor, Sasha Vulovic, and Julia Yezbick.
For more videos please visit our Vimeo account.

کارگاه اجرای تلمتیک "[] خط." در تابستان ۹۶ بین تهران و دیترویت به منظور ایجاد فضایی موازی برای گفتگو، تمرین فیزیکی و
تحقیق عملی در مورد هنر اجرا و رسانه های نوین برگزار شد

برگزارکنندگان :‌ جوامع شاعرانه و هینترلندز با حمایت مالی بنیاد نایت

میزبانان :‌ پاور هوس:‌ پلی هوس، دیترویت + بنیاد پژمان‌: کندوان، تهران

شرکت کنندگان :‌ آریا تابنده پور، آریا اشکان (اکسپت)، اژیا سلکستر، الیشیا کستانادا لوپز، امیر پوستی، بیلی مارک، جاوید قایم مقامی، جولیا یزبیک، حلیم سترینگز رسول (هارد کور دیترویت)، حوریا رحیمی، زهرا معین، ساشا ولویک، شاهین اقدام، علی سینا شاهانی، علیرضا کیمنش، لوان کفافیان و نغمه فکورزاده