TELEPRESENCE AS ANTI-GALLERY
A conversation with Ava Ansari of POETIC SOCIETIES
Centre Pompidou, Kandinsky Library Magazine, October 20, 2021

Established as an institutional critique project by Ava Ansari, an experienced Farsi-English interpreter, transmedia poet, transcultural curator, and yogi with heavy performance art, new media, and public policy background, against the lack of body-conscious modes of institutional labor across the globe, POETIC SOCIETIES started its multilocation work as a transmedia poetry and healing technologies multilingual network in Waawiiyaataanong/Detroit in 2017, using ancestral and digital technologies to cultivate celebratory heterotopic body memories for the somatic, sonic, and scenic liberation of the oppressed bodies across the earth.

Ava Ansari, who has been working with voice, body, telepresence technologies, institutions, and collective embodiment as crafts, has been producing and hosting multi-scale telepresence workshops and live performances to connect distant bodies across the earth since 2010. It all began with "The Back Room" (2010-14), an underground pedagogical and curatorial project they co-created with Molly Kleiman that bridged the political, geographical, financial, and environmental barriers of direct creative exchange between Iran and the US to circumvent the emotional, cultural, and political boycotts and media propaganda distancing the two countries. "Siting Performance," a three-day five-channel bi-locational workshop that connected participants at Eyebeam in New York to Silkroad Gallery in Tehran in 2011 is an example of their early programs.

They love pixels and the heterotopic aspect of the digital. Instead of focusing on the limitations of this medium, Ansari seeks the possibilities of telepresence activism. With video calling, one transcends the constraints of space and time. As a longstanding digital organizer, Ansari compares the post-COVID-19 epidemic of hybrid and online media consumption to the outbreak of digital photography. On the one hand, it is great that everyone is exploring the medium. On another hand, there is not much respect, attention, and experience for the media, its energy, tangibility as a craft, and the hardworking organizers who have been devising it for decades.

With POETIC SOCIETIES, Ansari creates Temporary Autonomous Zones (TAZ) to liberate oppressed bodies. They describe the organization as "a flexible snake with elastic pores, where ideas and energies leak in and out." Their work is also deeply inspired by the writings of architect and space theorist, Dr. Craig L. Wilkins and his theory of Celebratory Heterotopias (CH) described in his book "The Aesthetics of Equity: Notes on Race, Space, Architecture, and Music" who also serves as the Honorary Director of Spatial Justice at POETIC SOCIETIES. Excerpts from the book and its "Remix" section, where Dr. Wilkins presents his CH theory in the black vernacular, have been translated into Persian by Saleh Najafi and Ansari and performed by Ansari and Dr. Wilkins at Recess Art in NYC and other venues. A video of Ansari performing the Persian version is available on the POETIC SOCIETIES "Forgotten Networks TV" channel on Vimeo for public view.

Most recently, Ansari, under the guise of POETIC SOCIETIES, has directed and produced the latest version of their hybrid-urban telepresence healing festival "REMOooOTE" between Detroit and Palestine in collaboration with artists and production crews working remotely between the two cities to create "an experimental-medicinal audiovisual participatory experience that works with remote somatic-sonic alignments as unifying acts of protest and protest as radical care." The thirty-minute-long video immerses the viewer in a liminal space, layering and weaving visuals and language created by Ansari with guest poets, musicians, dancers, healers, activists, and community organizers mostly in Detroit and Gaza including eight interconnecting acts that work with water as a healing element with ancestral memory, the spaces feel less far apart. The video hypnotically moves the viewer through a somatic healing session with expressions in Arabic, Persian, Anishinaabemowin, and English, providing poetic background to the slow Palestinian genocide and linking it to the genocide histories and folk traditions of the other marginalized communities, bringing the viewer into usually inaccessible spaces—made newly accessible—through the work of Ansari with their collaborators. Ansari explains that most of the programs about the Palestinian genocide are presented in informative portions. But, their focus is on the collective embodiment of bodies through media beyond ration. So, the audiovisual experience, instead, works with our internal space to enable body thinking.

The video begins with a creative land-water acknowledgment; the narrator, indigenous Detroit community member, Dawn Ceballos, honors the Pre-American indigenous people of the three fire confederacies: Ojibwe, Odwawa, and Bodéwadmi, all the non-Anishinabe seen and unseen beings in the Northern hemisphere and all other dimensions.


Following that comes the Artificial Intelligence Acknowledgement. The narrator, Ava Ansari asks Siri what time it is in Palestine. Siri answers that they don't know! The potent exchange acts as a wake-up call for the viewer, asking them to tune into the times and spaces that are kept hidden from us under erasure. It summarizes Ansari's daily ritual of tiring Siri with insightful asks about the temporal specifics of Palestine, inspired by the Palestinian comedian Amer Zahr.
A close shot of Ansari's computer's screen with her depicted voice "Hey Siri what time is it in Palestine" and Siri's response "Sorry, I don't know what time it is there." are visible against a dark backdrop. The fragility of the lines resembles mistrust toward artificial intelligence.
From this space, we transition to the intro act, a meditative prayer for bending water by the renowned Afro-Iranian musician, Saeid Shanbehzadeh. The camera pans out to the trees, filling the frame completely like an analog transition, and then pans back to Shanbehzadeh—his image is composited with a dancing figure—Ansari's reenactment of the prayer in her bedroom in Detroit—and a collective breathing exercise with all the participating artists with their medicinal choice of folk heritage song that honors the process-based aspect of the making and marks the beginning of their collaboration. Shanbehzadeh plays a Neyanbān, a type of ancient Persian bagpipe that has been historically used in the Bilad al-Sham (the greater Syria including Palestine, Lebanon, and Jordan) and connects the stories of land beyond nations. The layered sounds of Shanbehzadeh with the breathing exercise, in multiple tongues, powerfully connect the music and rituals of the south of Iran to the larger Arab stories—that have been traditionally left out—as well as African and indigenous folk rituals.

As "REMOooOTE: Detroit-Palestine" opened up JAM3A, the first online Arab Music Festival in the US produced by the Arab American National Museum (AANM), it was important to Ansari to open the Festival with Shanbehzadeh to honor his legacy and identity as an Afro Iranian-Arab musician. Shanbehzadeh sits above a well in the woods playing and calling for water. His sandals on the ground, his bare feet keep the time on the raw earth. It is hypnotic; it is no wonder that this instrument has been used for dance and trance. Ansari: "At times, the Neyanbān sounds are reminiscent of the edgiest synth sounds. If we listen deeply, we hear the sound of the water responding back to Shanbehzadeh's humble mastery." The sound of Shanbehzadeh's Neyanbān is the threshold that, when it reaches its magnitude, brings us through to a kaleidoscope, and out the other end, we see the words: Water, Breath, Vibrations, Echo on the screen in Arabic, Farsi, and English. Saeid then chants into the well in the unknown forest; layered, Ansari dances in Detroit. Collective songs resonate, blast out of my mediocre computer speakers, yet the experience is independent of the quality of technology, occurring simultaneously in the heterotopic space of the digital. A euphoric experience across continents, telling me more about a place by focusing on the body's sensory capacities than a linear narrative ever could.


In a liminal space, Saeid Shanbehzadeh is singing for the water towards a well in the South of France, the shadow of Ava Ansari is dancing to his chanting in Detroit, a kaleidoscopic soft anime of the water connecting them
Then through a smooth transition, we find ourselves in Ansari's living room with the multidisciplinary Palestinian artist Mary Hazboun, known for practicing "Art of Weeping" as an act of de-policing, de-invading, and decolonizing bodies and languages through singing, public speakings, and journaling. Hazboun, in addition to her mesmerizing voice and wisdom, supported Ansari with Arabic translation during video calls with the Gaza team and Mohanad Samama, a Palestinian movement artist based in Gaza who practices dancing as resistance for everyday ease. Hazboun is smoking Shisha alone in the room, her personal healing ritual, while doodling and writing by herself and typing on her phone. Images of Samama from their video calls between Detroit and Gaza, layered on Hazboun's visuals, give a distant feeling of intimacy with lyrics depicted from a poem from the "Voices of Resistance" album by Palestinian singer and activist, Rim Banna, who died of cancer in 2018, to honor her memory:
Me, whose olive trees crack the solid rocks, drink the water of the rain, and let the olive oil flow in my veins ...I am trying to fight against the sickness of the cells like I am fighting against occupation
Mary Hazboun's downward gaze in Detroit meets the eyes of Mohanad Samama in Gaza within a layered dreamy frame of converse and suspense.
The lyrics deeply connect the love and pain of Hazboun and Samama to their homeland beyond the impact of war and exile. After, we emerge through teleportation kaleidoscope to Gaza, hearing shout-outs of "Yes, No, and Abstention" from the representatives of countries who voted for the conception of Israel at the UN General Assembly Resolution 181, where the body of the dancer, Mohanad Samama, moves through the desolate war-torn city of Gaza to the music of the experimental sound collective, Checkpoint303 who create liberating tunes from the occupied territories, amplifying everyday sounds of longing and injustice from North Africa to Southwest Asia at the face of their colonizers. The song echoes Ghassan Kanafani's voice, the late leader of the Popular Front for the Liberation of Palestine (PFLP) in 1970:


The history of the world is always the history of the weak people fighting the strong people. Of weak people who have a correct case, fighting the strong people who use their strength to exploit the weak.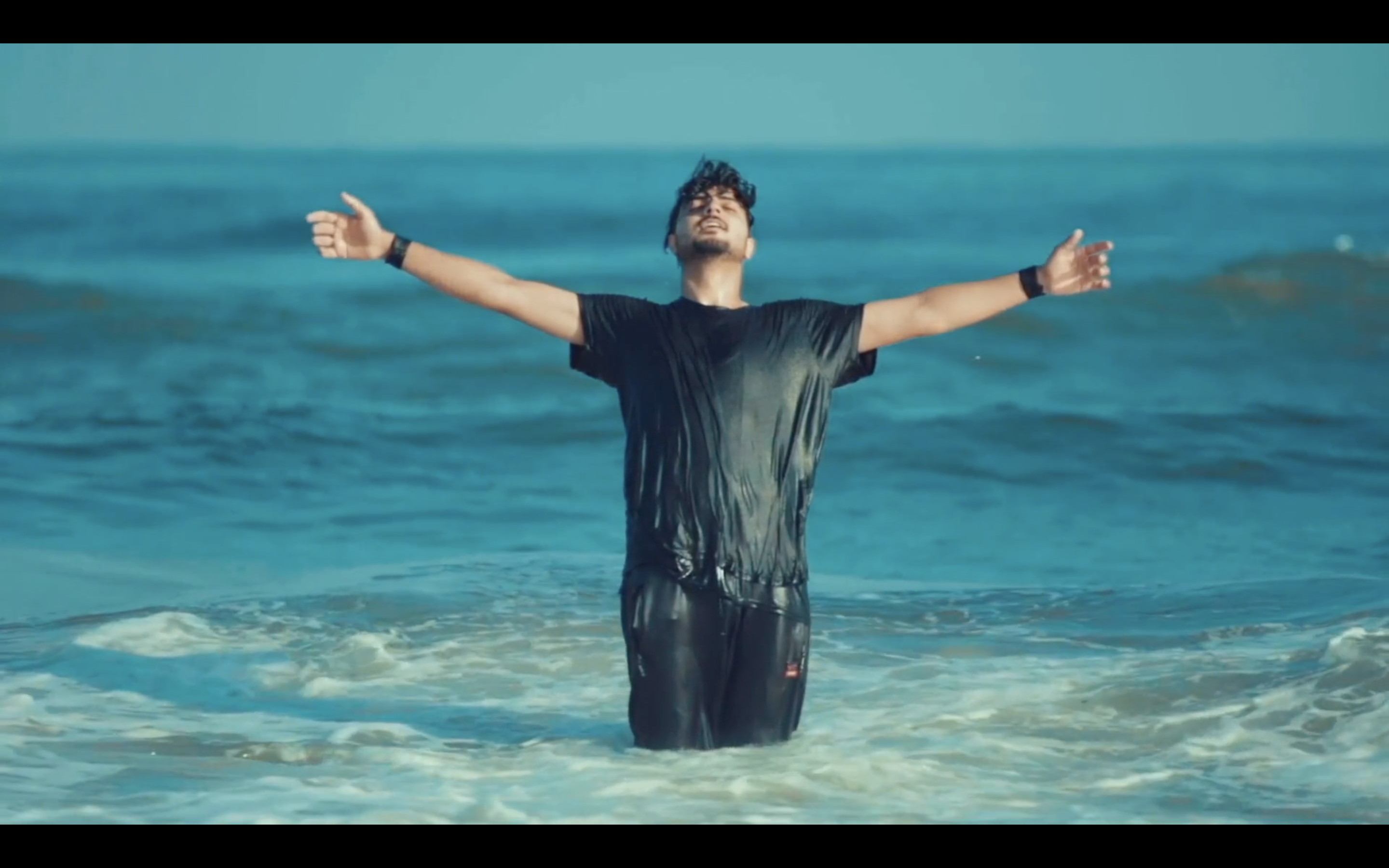 Mohanad Samama in a black shirt, pants, and wristbands, stands tall inside the waters of the Mediterranean Sea with closed eyes and open arms.
Then, we see Samama standing inside the Mediterranean sea with open eyes and closed eyes, falling backwards into the waters at the shore of Gaza strip while Hazboun sings "Ya Zarif Al-Toul | الـــطول ظـــریـــف یـــا "folk song over Samama's union with the water that opens the next act with Ansari's backward walk, in a deep backbend, out of the Lake Huron in Detroit during her personal healing ritual in a diptych image with poet, Will See (Owólabi Aboyade) on the other side bursting poetry and artist and producer, Sacramento Knoxx of the Thunderbird Clan playing drums. The act features the "Story of Spirit" song produced by POETIC SOCIETIES with contributions from all the artists in their mother tongues for the festival that is available on Bandcamp. The song ends with a Persian verse by Ansari that encapsulates the intent of the project:


درد اجدادی، درمان اجدادی، هم گام یکدیگر فرای استثمار جهانی، هدف ما پایان پاکسازی نژادی
Pain Ancestral, remedy ancestral. We share steps, beyond global exploitation.
Our goal is to end ethnic cleansing.
A diptych image of Ava Ansari on the left, in a deep backbend, walking backward out of the Lake Huron and Will See (Owólabi Aboyade) with black-frame eyeglasses bursting out his poetry inside a voice recording room towards a microphone at the Feeder Loft Recording Studio in Detroit.
From Detroit, we are taken back to Gaza to a thought-provoking narrated movement piece by Samaa Wakeem produced by Yaa Samar! Dance Theatre (YSDT) from their "3x13" production that is featured as a guest act and gives us deeper access to Wakeem's everyday life and school commute as a woman, student, and dancer living in the war zone


The still shot from Samaa Wakeem dance from the 3x13 video of Yaa Samar! Dance Theatre with her index finger in the air and forward gaze signifies an internal conversation on safety with an unknown passenger on the other end. Wakeem has long brown hair and wears a brown tank top. We see the landscape in Palestine behind her from the back windshield of the bus
Then, we follow the walk steps of Ansari back in Detroit over the marks of a dog paw into the cement where Will See (Owólabi Aboyade), a father and multidimensional culture worker from Detroit with twenty years of cultural facilitation and organization practice focused on environmental justice, disability justice, and New Afrikan sovereignty against individual and collective modes of colonization, holds a ceremony for the death of his dog that happened during the production. His words make us think of the natural response of the animals to pain and oppression. In a way without asking or saying much, his words and Ansari's videography allow us to question the public ideas on self-defense vs violence in relation to the marginalized communities' fightback against the oppressors. That reminds us of the finesse of Ansari's exchange with Siri at the beginning of the video. Will See (Owólabi Aboyade) ends the ceremony by reciting his poem that shows the parallels between the historical and contemporary sufferings resulting the colonization and the concept of nation-state as an inevitable part of the recipe that we must change as a gift to the future generations, to ourselves, and "To Our Elevated Ancestors":


Ceremony (1)


To our Elevated Ancestors


We don't take photographs

Of the winds we know

That which is beyond us

Cannot be seen only felt

Cannot be thought

only trembled

Cannot be understood only digested

Or echoed


Invited


We wrote this poem at my altar

My altar thousand miles away

A photograph would show

In guest trailer, this body with my feet

bare, alone

In the parched field alive with sons' play toys,

We don't take photographs


When I am with you, grabbing

A device is the furthest thing

From my heart, when we laugh


No picture may capture

The spirits passing between us

When we sit, we pass the camera

To silence our image


Then held in fields beyond

This tangible life

We don't take photographs


Of our heart meat

But sometimes we hold

Each other neat

As ink to page

Of a journal in unexpected drought sweat

Drops onto incomplete line

Sweet words blur together

Hear

My hearts beat like rain


Ceremony (2)


We don't take photographs

The white folk colonize


With mythology they share stories

Of our ancient ones


Calling them chicken

We grabbed fowl by the neck


And spilled blood

So that our petitions be free

Descending deeper into earth


We set up rituals

Pretend for visitors payment and their

Cameras shows for anthropology

How many African-

Americans became tourist


I met them in Brazil

Looking for exotic brown pussy

Paying tens of thousand dollars


To put our hands on dignity

What feels like floating flying

From this land where we pay

To grab titles and sweet purposes

Missing and Murdered


we don't take photographs

this mind, our lyric, and rhythm


hold memory


catch catch catch it


then these bloodthirsty strategists

fools who spilt the blood

of sixty million

in the Atlantic ocean

through the coastal dungeons

dragging agriculture and earths

into slave making hell

these mother fuckers told


the story that we were afraid

of cameras feared little boxes

of light and dazzle


the grubby hands framing like

photography would try to kill


our soul


catch catch catch it my


nigga, we don't take photographs round here.



1 Ava Ansari, Media Farzin, and Molly Kleiman. "The Back Room in Conversation with Media Farzin". Six Degrees, 2014. https://www.newmuseum.org/blog/view/the-back-room-in-conversation-with-media-farzin.


2 Hosseini, Mohammad. "The Lady in Red". Akskhaneh, 2011.


3 Andrew Quitmeyer, Michael Nitsche, Ava Ansari. "Subway: Activist Performance through Mediation." International Conference on Arts and Technology (ArtsIT), Part of the Lecture Notes of the Institute for Computer Sciences, Social Informatics and Telecommunications Engineering book series (LNICST), March, 2013.


4 Hakim Bey (Peter Lamborn Wilson). "Temporary Autonomous Zone" Brooklyn: Autonomedia, 1991.

5 Craig L. Wilkins. "The Aesthetics of Equity: Notes on Race, Space, Architecture, and Music" Minneapolis: University of Minnesota Press, 2007.

6 Ava Ansari and Craig L. Wilkins. "Aesthetics of Equity | انصاف شناسی زیبایی" Detroit: POETIC SOCIETIES, 2020.

7 Checkpoint303. "Gaza Sea Minor, Ghassan Kanafani" YouTube, 2020.